Football season is almost ending but we still have baby showers left and right. What a better time than to celebrate the coming of your little bundle of joy, especially if you're a Dallas Cowboys' fan. Although they didn't go to the Super Bowl (booo!), you can still have a Dallas Cowboys themed party.
Below are some cute and unique ideas to help bring your future NFL star into this world with a Cowboys themed baby shower. Even if your team isn't the Cowboys, you can find similar items for your team.
*This post may contain affiliate links
Whether you're having a girl or a boy or maybe you're not revealing your baby's gender, these are some great ideas that will help bring inspiration to the best Cowboys' baby shower ever. 
***Read all the way to the end to grab the printables!
Now, we can't have a baby shower without the proper invitations. Here are a couple of invitations that are football themed and even be an inspiration to a baby reveal shower. These are just a couple of ideas for an invitation that you can customize with your wording:
Decorations for the Baby Shower
Apothecary Jars
These beautiful glass jars can be decorated with some yummy edible candies that will match the Cowboys theme, with silvers, whites and blues. They're not only elegant but stylish for that amazing candy buffet table full of football paraphernalia. These gorgeous jars can be found in BeauCoup or you can click on the image to score with these amazing jars.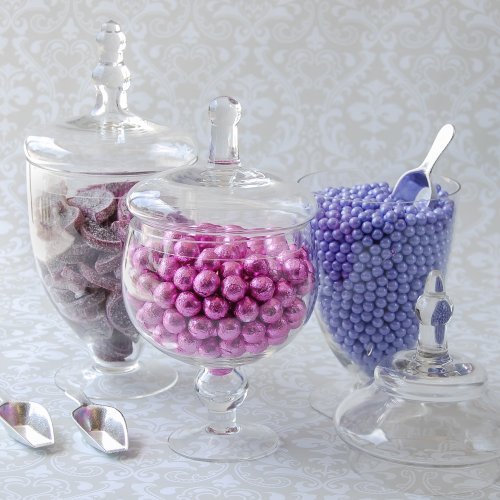 Glass Apothecary Jars
Cowboys Colored Candy
As mentioned above, you can find a great selection of different types of candy to show your team spirit or even have guests guess what gender your baby will be.
Cute Dallas Cowboys themed baby shower ideas here. #parenting #baby shower Click To Tweet
Game Idea: Gender reveal game (in case you haven't revealed the gender) can be played by using pink and blue candy. Place a hidden Amscan Miniature Baby Charm within the jar of your baby's gender. Pink for girl and blue for boy. Have your guests pick out candy from each of the two apothecary jars and have them find out where the miniature baby charm is hidden.
Or you can leave them in suspense by putting the miniature baby charm in a jar full of yellow candy and give them the next clue within that jar. There is a great variety of candy for you to choose from at BeauCoup so don't think you're limited. But these Multi Colored Gumballs would be a fun and unique way to have a game and treat your guests.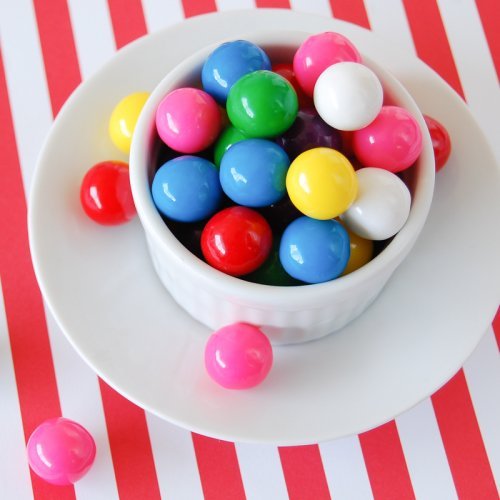 Multi Colored Gumballs
Dallas Cowboys Table Cover
Share the football spirit by decorating all your tables in this rectangular officially licensed cover along with the delicious food you'll be serving for your guests. No need to clean up spills or crumbs from the hungry Cowboy's fans with this plastic table cover. Grab some finger food ideas in this 70+ Easy Finger Licking Super Bowl Ideas post.

Dallas Cowboys Plastic Table Cover
Football Themed Tray
Score a TOUCHDOWN with this reusable and dishwasher safe serving tray. Football themed decor shouldn't be left out. Chips and salsa or your favorite dip can fill this tray up. You can either have your guests dipping in some yummy salsa, pico de gallo or a cheese dip paired with your favorite chips.
Game Idea: Cotton Ball Touchdown– Pour a handful of cotton balls into the center bowl and have your guests smear some vaseline on the tip of their nose to dip in and have cotton balls stick to their nose. The one with the most cotton balls on the tray surrounding the bowl, WINS.

Football Field Chip 'n Dip Server
Garland
We can't have a party without pretty and colorful decorations. Choose from the different color sets by BeauCoup such as this blue ombre color combination Paper Tassel Garland.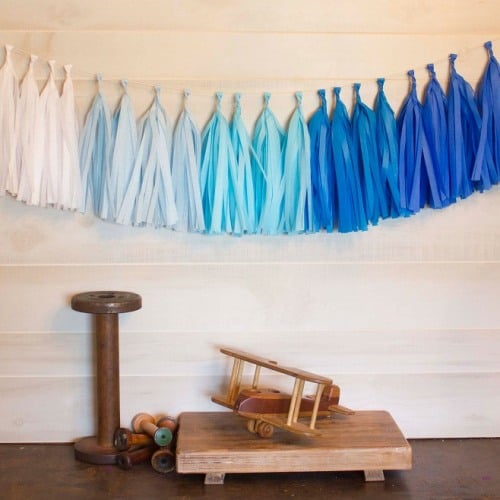 Paper Tassel Garland
Dallas Cowboys Gift Ideas
Dallas Cowboys Baby Blanket
My oldest to this day carries a blanket with him around the house and even when we go to the store. It's not a big blanket but I wish we had bought him something small like this blanket with a stuffed toy.
Anyhow, this cute and fuzzy blanket would be a great gift for the baby to come. It comes in pink or navy.
Grab this baby shower checklist to make it easy on you. #parenting #babyshower #printables Click To Tweet
Game Idea: It can be turned into a gender guessing game like mentioned above. You can have the blue or pink bear wrapped up in a gift box and gift it to your mother, mother-in-law or whomever you wish to give the big surprise to and have them be mesmerized or possibly crying with this lovely gift. These can be found at Fanatics.

Dallas Cowboys Infant Snuggle Bear Security Blanket – Navy

Dallas Cowboys Infant Bear Security Blanket – Pink
Infant Bodysuit
Another awesome gift idea is this cute team bodysuit for the newborn/infant. Show your baby's spirit by buying him/her a Dallas Cowboys' bodysuit like the one below. For sure, this bodysuit will be used by your cute infant. Style it with some warm pants and long sleeve undershirt if leaving the house depending on the weather.
You can never go wrong with bodysuits! Especially if it includes the Cowboys' star embellishment.

Dallas Cowboys Infant Logo Premier Bodysuit – Navy
Dallas Cowboys Bucket Hat
When you were little, you were either always decked out in Dallas Cowboys gear or wished you were. Now it's time for the newest fan in your life. You can do so with this Dallas Cowboys Mascot Ribbon Bucket Hat. This hat is decked out with Dallas Cowboys graphics all around and will definitely keep your little fan looking cute and cool.

Dallas Cowboys New Era Infant Mascot Ribbon Bucket Hat – White
Dallas Cowboys Diaper Bag
With this handy diaper bag, you'll be ready for any need your baby may have while showing your Dallas Cowboys spirit. This diaper bag features Dallas Cowboys logos on the bag and all over the changing pad. You'll be supporting the team and having everything handy when that diaper explodes or when baby gets hungry.

Dallas Cowboys Team Logo Diaper Bag – Black
 Conclusion
These are just a few ideas to decorate and show your love of football and team spirit for the Dallas Cowboys. If you want to surprise that mom-to-be and show her that you can throw an awesome baby shower and at the same time show her that you know what she loves, then these are great ideas. Even if it's not for a Dallas Cowboys' fan, you can find your favorite team's items in the above links as well.
Or if you are the mom to be, check out the items above to get started on the baby shower party planning. Plus, grab this baby shower checklist and gift tracker below!
What was your baby shower theme? Have you ever planned a baby shower or birthday party for someone else? 

Apothecary Jars for Candy Buffets
Candy buffets are perfect for team themed baby showers. Everyone can have a treat and you can meet all dietary/allergy needs.

Bulk Candy in Cowboys Colors
Click through the image above to find bulk candy in Cowboys colors as well as fun chocolate covered footballs and more.

Dallas Cowboys Baby Blanket
Keep baby happy in this fun, fan-favorite security blanket. It makes the perfect gift for a Mom to be.

Team Pacifiers
These fun pacifiers keep baby happy while also showing support for the winning team!

Blue Tassel Decor
Don't forget the decor. These blue tassels can feature Cowboys blue and silver. Find more color options by clicking the link above.

Plastic Table Covers
No table is complete without a fun and official logo'd table cover. Keep the table clean and show your support with this fun decor item.

Touchdown Football Rattle
Why leave baby out of the fun and cheering? With this fun touchdown rattle, your little sports fan will have fun cheering on the team.

Cowboys Romper
Want that perfect present? These rompers make the perfect gift for baby and come in numerous styles. Click the image above and find even more options to show your team support.

Football Field Serving Tray
From cupcakes to cookies and other themed foods, they'll look awesome when they're served on this football field tray.
*This post may contain affiliate links or ads and I'll earn a small commission if you shop through them. My family and I will greatly appreciate this as this is how we help provide income to our household so we can continue bringing you amazing content.